Cleaning Stains Caused By Clay Soil
The product to use that breaks down clay type stains is Aldon "Insta-Clean". It is used by itself, or in conjunction with power washing equipment. It can also be added to the water sprayed by power washers.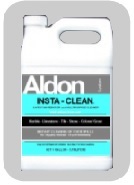 Some Considerations:
Power washing will force water further into the surface than hand washing. This could promote efflorescence (see page). Therefore, it is best to test a few areas first.
Sealing afterwards will greatly reduce the ability of clay to bond and make it easier to clean in the future. Most likely, very light power washing alone will be sufficient from then on. Sealing properly also removes the risk of efflorescence.
Note:
Sometimes cleaning is a trial and error process. The cause of the problem might be different than thought, or have multiple causes and results that must be handled in steps. In rare cases, it cannot be cleaned. Proceed as though it is an experiment whose results must be evaluated.
Any Aldon cleaner has more than one purpose. It is not limited to only this cleaning project.