MARBLE STAINS, LIMESTONE STAINS, ACID MARKS:
Marble and limestone are materials that will be etched from the acid content of wine, fruit juice, etc. It will also etch from acidic cleaners, including our acidic cleaners. Etching creates a dull patch in the otherwise smooth, somewhat glossy finish.
For cleaning of limestone and marble surfaces, Aldon has a non-acidic cleaner, "Insta-Clean" that can safely clean these materials without etching.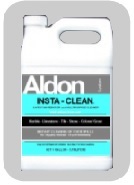 Note:
Sometimes cleaning is a trial and error process. The cause of the problem might be different than thought, or have multiple causes and results that must be handled in steps. In rare cases, it cannot be cleaned. Proceed as though it is an experiment whose results must be evaluated.
Any Aldon cleaner has more than one purpose. It is not limited to only this cleaning project.