Notes:
Before: The top starts out with no sealer and a non-glossy finish.
(Video may be slow and "jerky" until it fully downloads).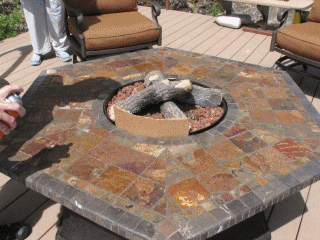 After: As the video shows, the surface dries to a matte finish on this stone. It will be glossier on less absorbent surfaces. Do not use the fire until full cure is achieved per the label. The table surface can be used as soon as dry, but the sealer does not achieve full hardness until approximately 24 hours. Full cure can take 3 days in cold weather.
If the sealer is damaged (cut, burned with red hot utensils), the steps to easily and rapidly restore the surface are:
Remove the old sealer with lacquer thinner - (if it is necessary). It may not be necessary with minor damage because new sealer will melt old sealer and all flows together to a new surface. You can see a video of this process here.
Let dry for 10 minutes and spray as shown.
This spray process is exactly the same in the manufacturer's factory except they are using spray equipment instead of aerosol cans.